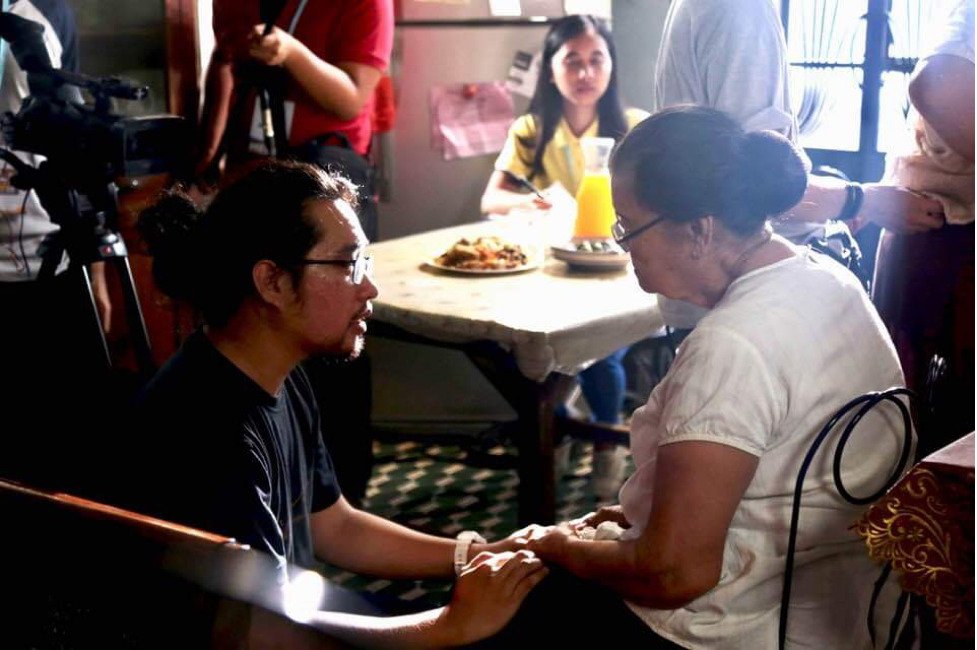 Young filmmakers from Pampanga share their stories on overcoming the pandemic, and their plans to tell more stories about their people and the culture they love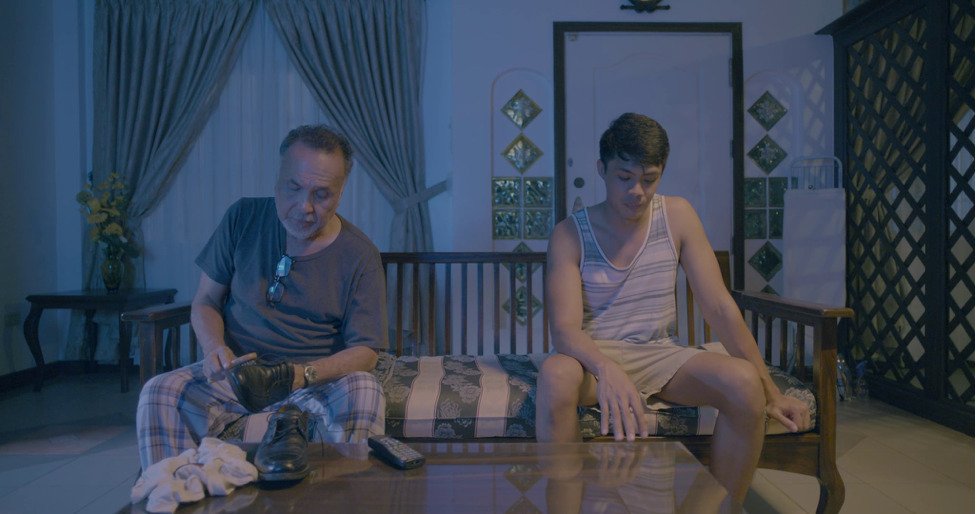 A muscular guy is seated on a sofa beside his frail-looking father. He used his shirt's collar to wipe his tears trying and hide his emotions to no avail.
"Positive ku keng HIV dad (I am HIV-positive dad)," he blurted out.
The old man remained quiet as if carefully trying to recollect his wisdom gathered all throughout the years he was growing up, marrying his wife and losing her, and raising their son alone.
After a few seconds, he finally opened his mouth only to let out a very short question.
"Kapilan? (When?)," the father asked as a mixture of worry and assurance filled his eyes.
There was silence inside the room– until a small lad wearing thick glasses yelled.
"Cut! Good take!"
He is Kyle Jumayne Francisco, a Kapampangan filmmaker who was directing his sophomore short film called Gulis (Lines) which later made it to several international screenings like the Shanghai Queer Film Festival- Asian Short Film Competition and bagged several awards in the national independent cinema scene. The film tells the story of a dysfunctional father and son– one dealing with a loss of a loved one while the other with a highly-stigmatized illness– and were compelled to talk with one another to heal the wounds of their relationship.
"I want to contribute to make the voices of persons living with HIV louder and get rid of the stigma," Francisco explains.
Francisco started as a production designer in various Kapampangan films and soon made it big with the film Aria directed by another Kapampagnan filmmaker Carlo Enciso Catu. Francisco and his team won the Best Production Design Award in the Gawad Pasado 2019. He was able to make a name for himself in the film scene despite not having a formal education about film production. He has a degree in BS Psychology from the Holy Angel University in Angeles City.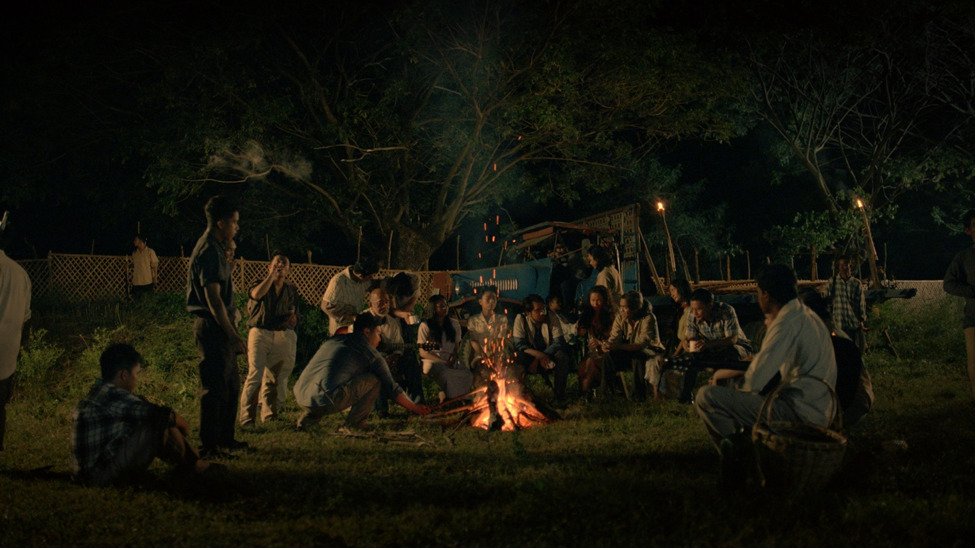 Before the pandemic, he decided to leave his corporate job as a Human Resources Officer in a Business Process Outsourcing company in Clark, Pampanga to pursue his passion for filmmaking.
Unfortunately for him, Gulis was the last film he was able to direct because COVID-19 happened.
"I went back to the corporate world because I needed to earn. My shoots were all halted during the lockdown," he shares.
Despite the small setback, Francisco continues to strive to achieve his filmmaking goals. He joined the script writing masterclass of Ricky Lee during the lockdown so as to gain progress in the craft he truly loves.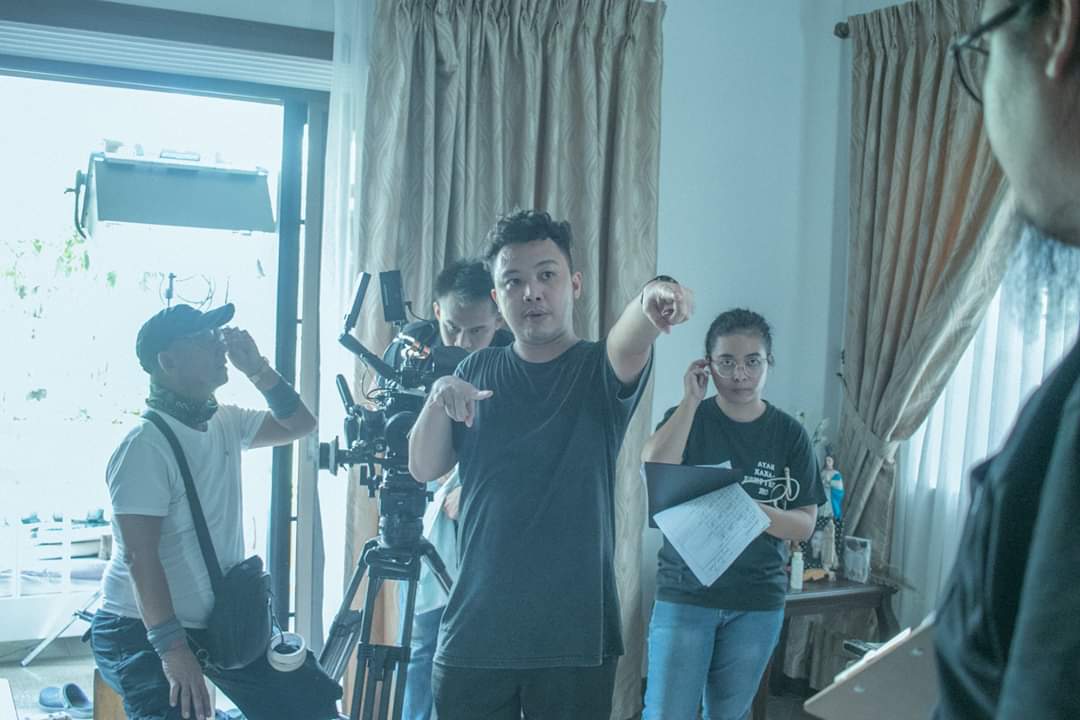 "(The) lockdown has helped regional stories surface through online film screenings, which regional films have benefited a lot in terms of exposure… Regional films are considered gems. Audiences not just from the Philippines have started to be curious about these stories, these languages, these cultures, and they now have gained a market that was untapped pre-pandemic," Francisco utters.
He aspires to make more films that will tell the stories of the province where he grew up and gained consciousness. For him, Pampanga is not just a training ground or a stepping stone for budding filmmakers but a part of a whole Philippine cinema.
COVID-19 and the Big C
Just like Francisco, Aria's director and Gulis' producer Carlo Enciso Catu is optimistic about the future of Kapampangan cinema despite the challenges being posed by the present health crisis.
Before the pandemic, Catu has already won several awards here and abroad. His latest accolade was the Best Film Award in Cinemalaya 2018 for his film Kung Paano Hinihintay ang Dapithapon. His debut full-length feature film Ari: My Life With a King won him the Best Director Award at the All Lights India International Film Festival in 2016 and the Best Debut Film in the Harlem International Film Festival in the same year. He had no formal schooling in filmmaking as he is a Hotel and Restaurant Management graduate at the Holy Angel University but managed to penetrate the scene with his creativity, talent, and dedication.
The novel coronavirus disease might have had an effect on Catu's already booming career, but it was another disease that made him take a hiatus from the movie industry. It was a sad day of July last year when Catu lost his mother to the Big C.
"I was hired as a director at ABS-CBN and the pay was really good but I had to leave to spend more time with my mom who was ill with cancer then," Catu says.
It was not an easy decision according to him. As a filmmaker, he always wanted to work with the biggest company in the industry but he had to choose between the opportunity to fulfill one of his dreams or savor the last moments with the most important person in his life.
Catu says the death of his mom has made him rethink his philosophies in life, and allowed him to recollect himself as an individual. He started doing yoga and meditation to pull himself together.
"I never felt this sad. My mother's death changed my life." Catu shares.
The award-winning filmmaker partly blames the on-going health crisis on the rapid deterioration of his mother's health.
"Somehow my mom was also affected by COVID-19. She wasn't able to seek regular medication because of the fear of contracting the virus," Catu recalls.
He was already earning the fruits of his accolades gathered from the different independent film festivals and had just signed up for various projects in the mainstream cinema industry when the pandemic started. Catu says all his four projects including a full-length film to be shot in Japan were halted due to the health and safety restrictions brought about by COVID-19.
During his 27th birthday on September 26 last year, Catu decided to shoot a short documentary film called Joy is my Mother's Name which could be watched in this link. A small grant from the National Commission for Culture and the Arts made its production possible.
"It was my first birthday without my mom, and I just wanted to document the emotions we are all feeling as a family, as individuals who lost a loved one," Catu shares.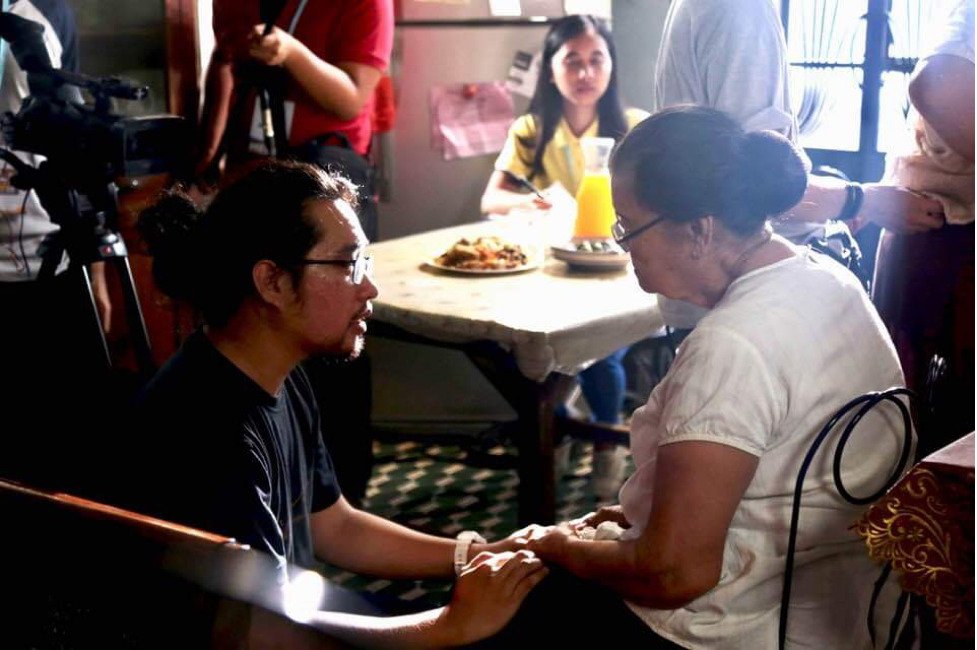 Movie production even before COVID-19 is not a simple thing to do, and filming during the time of a pandemic makes it extra harder for everyone involved. Catu admits he wasn't able to provide RT-PCR Swab Test for his crew when they shot the documentary for his mom, citing the expensive cost of the said medical procedure.
"I tapped my friends from the industry and trusted them. I asked them where they were in the last 14 days and most of them said they just stayed at home so I asked them to help me in this project," he shares.
Despite these challenges and his personal situation, Catu says being the artist that he is, he will continue to create films and tell stories once he gets back to the proper shape.
More and more cautions
These same challenges are the reason why filmmaker Gabrielle Tayag is hesitant to work on a new film project. Tayag hails from Angeles City and works as a tourism officer in the state-run Clark Development Corporation. She graduated from the University of the Philippines Film Institute and considers filmmaking as her outlet for her emotions and ideas.
Like Francisco, Tayag also attended the Ricky Lee Scriptwriting Masterclass late last year and was able to finish a storyline critiqued and edited by other award-winning screenwriters.
"I am excited to work on this storyline but I am not willing to shoot until the pandemic is over," she says.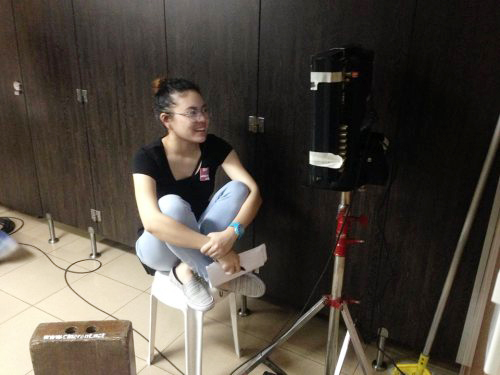 Tayag says the risks are higher and the responsibility of the filmmaker-producer, especially the one like her who operates in the independent scene, is bigger.
"You cannot sacrifice the health of your crew, you'll be responsible for what will happen," she explains.
Catu, who has been in talks with the Film Development Council of the Philippines (FDCP) before the lockdown, says the government can and must give more support to the movie workers, especially during this COVID-19 pandemic.
"Yes they are implementing protocols to ensure the safety of everyone, but they can do better," Catu says.
He also sees the situation as an opportunity to discuss the health conditions of all those involved in the film production work and not just the big names in the industry.
"Suddenly they are now concerned about the health of the utility personnel, the janitor in the set, the caterer, etc. because of this COVID-19 pandemic. We better maximize the situation so that even after the pandemic, they will look after the health of our crew" Catu adds.
The internet is doing wonders
Movies are made for cinema– this is something that most traditional filmmakers think. Catu shares the same thought as a filmmaker himself, but as part of the audience, he says a different thing.
The internet and all the mobile gadgets have made movies accessible to almost everyone. The rise of Netflix and other video-on-demand platforms made it possible for filmmakers to instantly reach their audience, and the audience to easily watch the films they like.
"These platforms make the audience feel powerful. Imagine they have the control of what they watch and what more they want to see," Catu explains.
Despite being a filmmaker, he admits doing some "tricks" when watching Netflix.
"I tried watching a series at a faster speed because I was very excited to finish it," he says pointing out the power of the viewer on a mobile gadget.
Catu's style as a filmmaker leans towards slow cinema and he admits he is worried about not fitting on the online platform's demand of fast-phased storytelling. He says he is willing to learn and adjust his style if needed since this is the direction where filmmaking goes.
The internet did not only reach the wide audience but it has also allowed filmmakers to stay in touch with each other during the lockdown.
"There were several filmmakers' guilds formed because everyone was staying at home and it is very easy to convene through Zoom," Catu explains.
One of these guilds is the North Luzon Cinema Guild, which became a venue for filmmakers to discuss the challenges they face, the plans they have, and the best practices they do in order to survive the New Normal. It has also helped in bringing regional cinema into the spotlight of the movie industry in the country.
"What sets regional filmmaking apart from the Manila-centric film productions, particularly in short films, is that we in the regions are known to produce films with lesser staff, wearing many hats, making films because we are passionate to throw our regional stories out there. Not to romanticize lack of funds, support, and resources per se in regional filmmaking, but the Kapampangan filmmaking community has been a great asset for several Manila productions pre-pandemic, and this espouses collaboration and opportunities more because of our orientation to filmmaking as a whole," Francisco says.
Digital alternatives
Prior to the March 17 lockdown, Catu, Francisco, and Tayag were all seated at one table at a newly-opened co-working space in Angeles City planning the 8th CineKabalen Film Festival, the biggest and most prestigious film festival in the province of Pampanga.
All three of them started building their names in the said competition and have decided to take on the leadership of the annual event.
They were ninety percent ready and two weeks away from the scheduled event when the Luzon-wide Enhanced Community Quarantine was implemented due to the increasing number of COVID-19 cases.
"We were all excited because the 2020 CineKabalen could have been the biggest edition of the festival then suddenly COVID-19 happened," Catu says.
There were at least 20 entries submitted to the festival and ten of them were selected as finalists. Some are so eager to share their films to the public that they decided to upload it on Youtube.
"That's fine. What's important is they can tell the stories of our province, of our culture in whatever means available," Tayag says.
According to Catu, they are now looking at the possibilities of holding a virtual festival just like what the Cinemalaya and the Metro Manila Film Festival did in the previous year. They are just coordinating with FDCP before they push for the online screening.
"Let's just continue to create and tell our stories. There's a lot to be told about our culture, about our province and the COVID-19 pandemic cannot stop that," Catu ends.