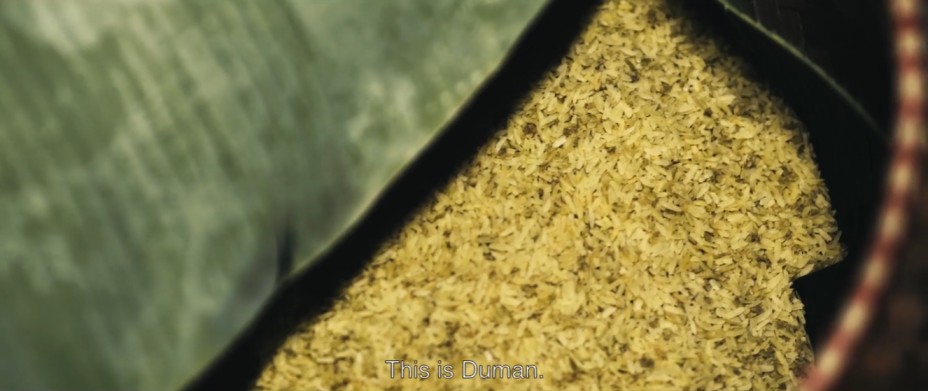 "Mal ya ing duman uling mal ya ing lahing Kapampangan (Duman is expensive because the Kapampangan race is priceless)," says Sta. Rita tourism officer Randy del Rosario.
Duman is one of the heirloom delicacies in Pampanga, specifically produced in the town of Sta. Rita. These golden green rice grains are relatively expensive because only few people plant them and it requires such big effort.
"Mahal ang duman dahil ito ay gawa lahat sa kamay (Duman is expensive because it is handmade),"

says Soledad Alvez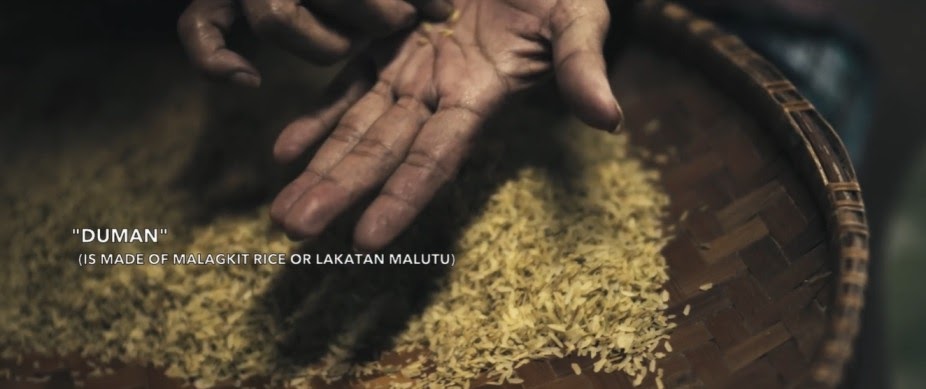 The process begins with planting the seeds in August. After a month, the farmers will transfer the seedlings on rice paddies and will be harvested when the cool breeze comes in November and December.
The community harvests the lacatan malutu or rice grains. The farmers will choose the beautiful grains and separate the small grains from the big ones. The process is called pamaspas, or beating the rice husks against the floor until the grains fall off. The big grains will be used for next year's planting season while the small grains will be soaked in water for two hours, then dried under the heat of the sun.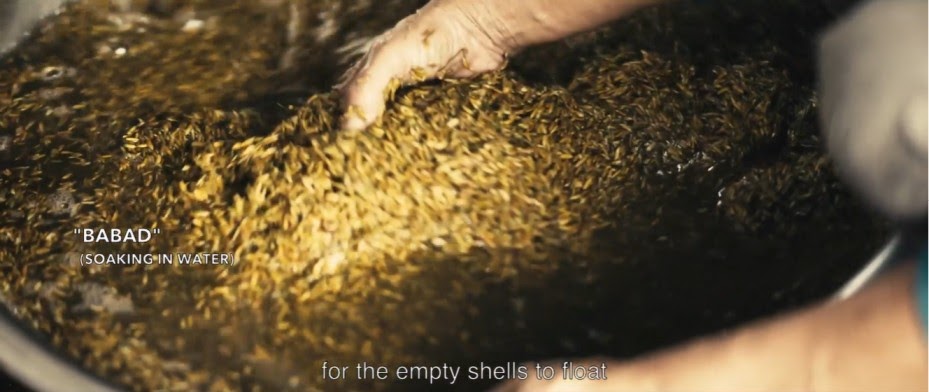 The grains will be toasted in a big palayok or pot, then they will be pounded in a large wooden mortar four times.This is to separate the ipa or husks from the duman. After 16 hours of hard work, the golden green duman is ready to pair with tsokolateng batirol.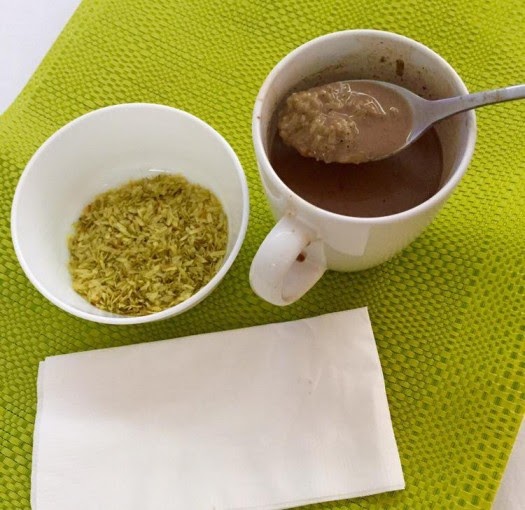 If it is not the duman season, farmers plant different vegetables and white rice. For the magduruman or the families that produce duman, planting duman is considered to be an important tradition.
"Masaya kaming kapag nag-duduman dahil sama sama ang buong baryo (We're happy when we make duman because the whole community is involved), JB Libut, a magduruman shares.
"Hanggang ngayon ay nagtatanim kami ng duman dahil gusto naming ipapatuloy ang iniwan sa amin ng mga ninuno namin. At mahirap mag pasko na walang duman. Hinahanap-hanap ito sa amin ng mga tao (Up until now we plant duman because we want to continue the practice of our ancestors. And it's hard to celebrate Christmas without duman, people still look for it)," he continues.
Sta. Rita town celebrates the Duman Festival annually every first Saturday of December to preserve this unique Kapampangan culinary tradition. One of the festival's highlights is the sarswela performed by internationally-acclaimed performing arts group ArtiStaRita, founded by Andy Alviz. This year, Duman Festival 2021 pushed through online and you can watch it on the Arti Sta. Rita official Facebook page.
-30-
Featured photo from Joshua S. Cunanan's video.
ABOUT THE AUTHOR
Bea Dizon is a fourth-year AB Communication student at the Angeles University Foundation. Her friends describe her as "small but terrible" and she agrees with that. Bea is an enthusiastic person and can make friends and work with anyone easily. She's passionate about performing arts and cooking. She's a great singer and a member of ArtiStaRita. Bea loves to talk and tell random stories and she is also a good listener. Subscribe to her Youtube channel here.