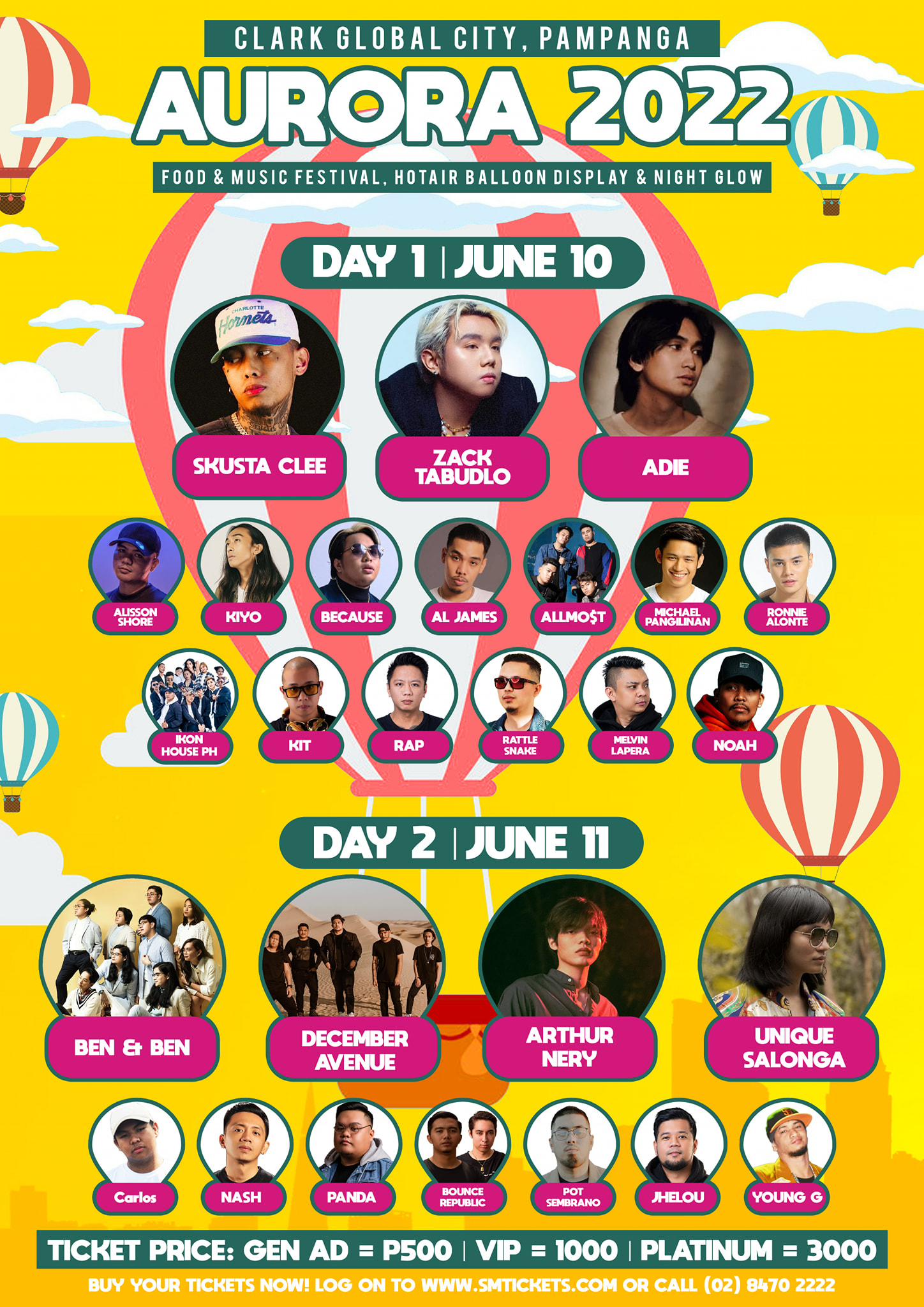 NO. This is not the usual hot air balloon festival we all came to see at Clark back in those days, but Aurora 2022 might have something new to offer. 
The Food and Music Festival, which will showcase a tethered hot air balloon and night glow display is finally happening this weekend after being postponed because of the COVID-19 pandemic.
Whether you're just sitting on the grass enjoying the view, eating what the food stalls offer, taking pictures, and jamming out to your favorite artists, you will surely have a blast!
The festival is set for June 10-11, 2022. On its first day, be ready to get your vibe on with Skusta Clee, KIYO, Al James, Because, Allison Shore, Michael Pangilinan, Almo$t, and Ronnie Alonte, along with other performers. The second day will serenade you with its lineup of performers including Ben & Ben, December Avenue, Arthur Nery, Unique Salonga, and other artists.
Live performances on both days will begin after the Hot Air Balloon Display from 4 PM to 7 PM.
Tickets are sold at the prices of P500 for Gen Ad, P1, 000 for VIP, and P3, 000 for SVIP, and they are valid for single use only. If a guest wants to attend on both dates, they are required to buy two tickets.
If you want fun-filled days full of colors, partying to music, and great food, then this is the festival for you.
##
ABOUT THE AUTHOR
Frencheska Evangelista is a trainee from the University of the Assumption. Aside from writing, she's also into dancing and visual arts. Frencheska's works vary from paintings to make-up prosthetics, truly a creative individual!